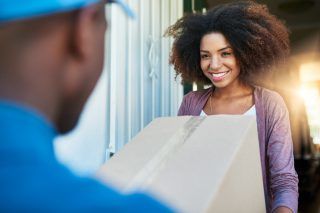 It's not a huge secret that e-commerce is taking over retail. Last year, Americans spent more than $453 billion on online purchases.
The industry is only getting bigger.
Amazon and Walmart are taking e-commerce to new heights. But even Amazon, which rules the e-commerce school, has run into a problem.
Despite their overwhelmingly popular Prime service, which allows people to get their packages in two days, people want it faster.
Amazon found that 60% of their Prime and 41% of non-Prime customers get deterred from buying something because of slow shipping. And we're talking two days.
That, in a nutshell, is why final mile logistics isn't only important, it's a necessity.
In this article, we give you more insight into this growing topic. We'll also give you some tips on how to get the most out of your third-party logistics service.
What Are the Basics of a Supply Chain?
Before we get into final mile logistics, let's go over some important basics.
If you're one of the 30+ million small businesses in the U.S., you're always looking for ways to cut costs. You're also looking for ways to increase sales.
The easiest and fastest ways to do both is using a third-party logistics company.
A 3PL company handles any or all aspects of your supply chain. Your e-commerce business probably utilizes a third-party logistics provider. If not, you're wasting valuable time and money.
In any kind of e-commerce, the process is the same.
The products get stored. A customer buys it online. The items get picked and packed, then shipped.
Wash, rinse, repeat.
How your company goes about it is different. If you use a 3PL, they do everything aside from being the customer buying your product.
If you self-fulfill, you're storing your products and handling every aspect of the supply chain. In essence, you're the supply chain.
If you use a drop-ship supplier, they make and store a White-Label product. Then, when your customer clicks "Buy," the drop-shipper puts your label on it, then does everything else to get it to your customer.
Yes, all three methods are very different. But there's one thing all these different processes have in common. Final mile delivery, or final mile logistics, is the most important piece of their puzzle.
What Is Final Mile Logistics?
Final mile logistics, or final mile delivery, is the last step in the shipping process.
It's when a product moves from a transportation hub to its final destination. This could be a receiving dock in business-to-business transactions or an individual's front door.
Sounds simple, right? It also doesn't sound that important. It turns out, that final mile logistics is one of, if not the most important parts of the supply chain.
Why Is It So Important?
Last mile delivery makes up 28% of the total cost of shipping an item. That alone makes it important.
As we already discussed, consumers want everything now.
The second they enter their credit card info online, they're waiting at the window for the delivery truck to arrive.
Everything hinges on last mile shipping. Everything gets affected if there's a breakdown in the final mile.
If a shipper loses your product, your customer gets mad. They call, usually in an aggravated tone, and demand you send them a replacement.
Your salesperson or customer service representative is now upset. They're desperately trying to get a duplicate order sent out. The warehouse stops what they're doing to take care of this priority.
The most frustrating part for you as a business owner is that there's nothing you can do about it.
What Are Some Challenges?
Chances are, you can relate to everything we've mentioned thus far. You're likely even nodding your head and asking, "Yes, but why does this always happen?!"
You're about to gain some insight into the challenges of final mile logistics.
Five main factors play a role in last mile delivery challenges. Every company can pinpoint exactly where their final mile delivery breakdown happens and it's not the same for everybody.
Customer Nuances
As you're well aware, the customer isn't always right. In fact, the customer is a cause for some huge challenges in last mile delivery.
First, is customer errors. This is when they input the incorrect shipping address or make typos to the address.
Next, customers shipping items to remote locations poses challenges for delivery.
Finally, a customer not being present at the time of delivery causes issues. Sometimes, a package gets stolen off their front porch. Other times, weather damages the package.
When the accuracy of the final delivery is in question, it costs someone time and money. That someone is usually you.
Business-to-Business Vs. Business-to-Consumer
Most of the time, B2B and B2C deliveries get loaded onto the same trucks. This system is inefficient but the theory is that it saves money.
The truth is, it costs more in the long run. B2B shipments are larger and more time-consuming. A delay in either causes big problems for the recipient.
Companies need their product to run their business. Consumers may need medical supplies to avoid a health crisis.
Putting both on the same truck increases the risk that there will be delays. It can also lead to damages.
Types of Products Shipped
Some goods require special handling and can throw off final mile logistics. The delivery of food, toxic/flammable goods, and fragile items take extra planning.
Outdated or Inefficient Technology
When your customer gets the notification that their order is "out for delivery," they get excited. Little do they know, all that means is that their package is on the truck.
There's no way to track in real-time where a delivery actually is the delivery process.
Likewise, outdated computer software, GPS, and handheld devices don't send the information with the efficiency they should.
Poor Infrastructure
The infrastructure in the U.S. is a major concern for many industries. But, when it comes to logistics, it may be the most troubling of all.
Roads and bridges in disrepair cause massive delays. So does inefficient route planning. All these lead to longer travel times and possible delays.
In the end, your customer's frustrated, and we're back to square one.
Are There Any Solutions?
The good news is, there are solutions to these challenges. This is welcoming news for companies that rely on last mile logistics to keep their customers happy and profits up.
The bad news is, if you're already envious of Amazon's amazing distribution system, their solution is like rubbing salt in a wound.
Amazon has their own delivery service. These are the couriers you see running all over town, delivering packages to the Amazon faithful. Using their "Delivery Partner System" allows them to have more control over shipments than they did using the "big three" shippers.
Now, you're likely not in the position to start your own delivery service. But you can take advantage of courier services that focus on final mile logistics.
Using a company that specializes in getting the final mile done right is a huge step in the right direction.
Find the Right Last Mile Logistics Company
There is no question that final mile logistics is one of the most important parts of the supply chain. The only answer you need is how to ensure you're using the right service.
At Need It Now Delivers! we focus on making sure your products get to your most valuable assets – your customers.
From air freight to rush courier service, we provide every aspect you need to deliver not only your product but unparalleled customer service.
We've perfected last mile home delivery and would love to talk to you about how we can deliver results for you.
---